Specification
Convenient for visiting consultants, suitable for general surgical applications and compact and lightweight size of the device.
Reduced RF distortion in other O.T. Equipment's due to noiseless performance.
Patient plate monitoring facility, eliminate the risk of site burns.
Independent monopolar and bipolar output can be used simultaneously by foot switch and hand both.
All power modes are separately indicated by LED indicators.
Analog switch for set power intensity for different modes.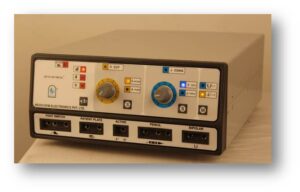 Technical Specification