ICBI-01
The MEDILAP  Transport Incubator is same to a MEDILAP Baby Incubator utilized in Intensive Care Unit. It is utilized to give an ideal warm condition to a neonate to decrease in heat misfortune to the earth. There are circumstances when a neonate or infant must be moved through air or street from one spot to other either looking for an emergency unit to an alternate clinic for an alternate treatment itself.
Untimely babies need to manage much a greater number of entanglements than the typical infants and henceforth our clinical gear like the vehicle newborn child hatcheries gives an ideal situation to the untimely children with the goal that they can deal with the warmth and temperature for long. Our vehicle hatcheries are made in order to meet the customers' prerequisites and to fulfill the business' guidelines.
MEDILAP Incubator provides digital display feature that allow to read and understand at any angle during transport. Display for air and skin temperature help you maintain, control and provide essential information about the new born . Microprocessor controlled system with air and skin modes of operation. Display both temperatures i. e. Air/Skin temp along with Set temp. Soft touch operation with digital as well LCD display.
Alarms
• Skin temp  low / high  • Probe failure   • Low battery  • Power failure • System Failure  • Timer
In case of high temperature i.e. above 380C, heater automatically cuts off thus ensuring baby's safety.
Can be used on manual mode as well.
Collapsible Stainless Steel Stand
With 2/4 no. gas springs for ambulance and in hospital transport purposes. Gas spring system allow the stand to collapse when trolley is pressed from both the sides.
Performance characteristics
Temperature set range                 : 32 0 C-  39 0 C
Temp variability                : 1.0 0C
Temp uniformity              : 1.0 0 C
Power Source
Transport incubator  operates on AC or DC power using AC when available or switching to its internal battery when necessary
SPECIAL FEATURES:–
Advance micro controller based system, integrated with Graphic LCD and dual Temp. digital display with complete operating features, warning and alarms for LCD.
High quality IR (ceramic) heating source with air circulating housing and inbuilt blower.
Mains line LED indicators.
Display system indicates the actual baby temp, air temp. with in the chamber of canopy and a LED bar display the heating ON%.
Humidity chamber is provided for producing the natural moisture in chamber of the canopy.
An audio and visual alarms for errors and process of application are also integrates in the system.
Low density mattress is fixed in the baby bed of the canopy hood.
Collapsible trolley (for transport incubator).
Humidity Sensor (On demand).
In built baby weighing module (on demand).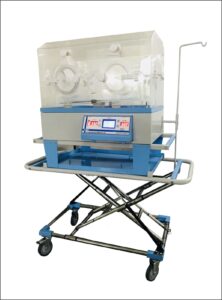 | Supply Voltage | 230V±10% Max |
| --- | --- |
| Supply Frequency | 50/60Hz. |
| Heater Power | 650 W. |
| Temperature Range | Set temperature form 20ο - 40ο degree in 0.1 degree Steps |
| Temperature Sensor | pt100 |
| Air Circulation | Integrated Air Blower |
| Bassinet (LXW) | 70X48. |
| Weight | 45 kg |
| Dimension (LXWXH) | 27″X17″X34″ |
| Castors | 4 Nos. 2 lockable |
| Baby Bed | 30 deg. tiltable on both sides |