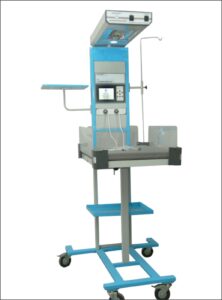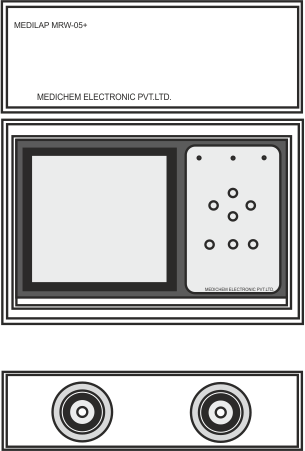 SPECIAL FEATURES:
Touch screen 5.9″ TFT LCD, application and settings can conveniently Program. Ceramic heating with safety guard & parabolic stainless steel reflectors.
Heater unit can be swivelled towards both side 90ο to accommodate x-ray unit.
The control panel is ergonomically designed with soft touch key pad.
Two different calibrated sensor probes can be inter change, used best quality silicon wire for durability and performance.
Integrated alarms and warnings for power fail, sensor open, temp high, low, over and lower range.
TECHNICAL SPECIFICATION :-
| | |
| --- | --- |
| WIDTH | 90cm |
| DEPTH | 110cm |
| HEIGHT | 185cm |
| MATTRESS SIZE  | 70cm x 50cm x 4cm |
| MONITOR TRAY SIZE  | 27cm x 32cm |
| HEATER | Ceramic 650W |
| HEATER ROTATION  | 90 deg on both side |
| REFLECTOR  | Parabolic Reflector |
| OBSERVATION LAMP  | 50W Hassle free halogen lamp |
| SIDE PANELS  | Unbreakable Polycarbonate drop down |
| CASTORS | Strong Castor wheel with 2 brake |
| MATTRESS  | Waterproof, Washable |
| MATTRESS DENSITY  | 25Kg/m3 |
| IV POLE | Adjustable Height S.S. rod |
| SENSOR  | Pt100 |
TEMPERATURE / CONTROLS :-
| | |
| --- | --- |
| SUPPLY VOLTAGE | 190V-250 VAc |
| SUPPLY FREQUENCY | 50-60Hz |
| POWER CONSUMPTION | 750W |
| TEMPERATURE DISPLAY | Celsius / Fahrenheit |
| TEMPERATURE RANGE | 25C – 38 C |
| TEMPERATURE RESOLUTION | 0.1 C |
| TEMPERATURE ACCURACY | 0.2C |
| SET TEMPERATURE RANGE | 20-39 C in 0.1C increment |
| HEATER OUTPUT | 0-100% in 1% increment |
| MODES OF OPERATION | Servo(Baby,Air), Manual |
| TIMER | 0 to 99 min |
| MANUAL MODE TIMER | 0 to 99 min |
| ALARMS | Audio and Visual |
ALARMS:-
| | |
| --- | --- |
| TEMPERATURE HIGH | If Temp > Set Temp by 1 deg C |
| TEMPERATURE LOW | If Temp < Set Temp by 1 deg C |
| OVERHEAT | If Temp > 38 deg(Baby) / 39 deg (Air) |
| SENSOR ERROR | Sensor disconnect/ not working |
| POWER FAILURE | If power fails |
| SYSTEM FAILURE | If system fails |
| HEATER FAILURE | If heater stops |