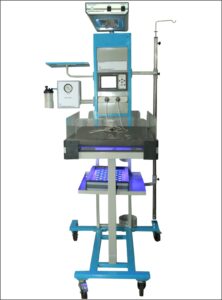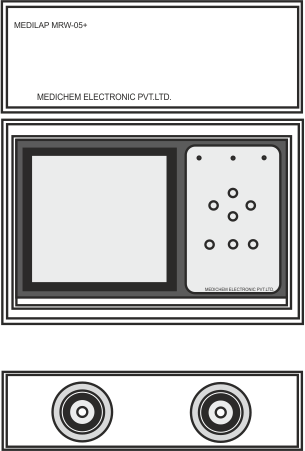 SPECIAL FEATURES:
Touch screen 5.9″ TFT LCD, application and settings can conveniently Program. Ceramic heating with safety guard & parabolic stainless steel reflectors.
Heater unit can be swivelled towards both side 90ο to accommodate x-ray unit.
The control panel is ergonomically designed with soft touch key pad.
MRW-06+ is built in under surface LED Phototherapy and precisely controlled suction device and oxygen attachment.
TECHNICAL SPECIFICATION :-
| | |
| --- | --- |
| WIDTH | 90cm |
| DEPTH | 110cm |
| HEIGHT | 185cm |
| MATTRESS SIZE  | 70cm x 50cm x 4cm |
| MONITOR TRAY SIZE  | 27cm x 32cm |
| HEATER | Ceramic 650W |
| HEATER ROTATION  | 90 deg on both side |
| REFLECTOR  | Parabolic Reflector |
| OBSERVATION LAMP  | 50W Hassle free halogen lamp |
| SIDE PANELS  | Unbreakable Polycarbonate drop down |
| CASTORS | Strong Castor wheel with 2 brake |
| MATTRESS  | Waterproof, Washable |
| MATTRESS DENSITY  | 25Kg/m3 |
| IV POLE | Adjustable Height S.S. rod |
| SENSOR  | Pt100 |
TEMPERATURE / CONTROLS :-
| | |
| --- | --- |
| SUPPLY VOLTAGE | 190V-250 VAc |
| SUPPLY FREQUENCY | 50-60Hz |
| POWER CONSUMPTION | 750W |
| TEMPERATURE DISPLAY | Celsius / Fahrenheit |
| TEMPERATURE RANGE | 25C – 38 C |
| TEMPERATURE RESOLUTION | 0.1 C |
| TEMPERATURE ACCURACY | 0.2C |
| SET TEMPERATURE RANGE | 20-39 C in 0.1C increment |
| HEATER OUTPUT | 0-100% in 1% increment |
| MODES OF OPERATION | Servo(Baby,Air), Manual |
| TIMER | 0 to 99 min |
| MANUAL MODE TIMER | 0 to 99 min |
| ALARMS | Audio and Visual |
ALARMS:-
| | |
| --- | --- |
| TEMPERATURE HIGH | If Temp > Set Temp by 1 deg C |
| TEMPERATURE LOW | If Temp < Set Temp by 1 deg C |
| OVERHEAT | If Temp > 38 deg(Baby) / 39 deg (Air) |
| SENSOR ERROR | Sensor disconnect/ not working |
| POWER FAILURE | If power fails |
| SYSTEM FAILURE | If system fails |
| HEATER FAILURE | If heater stops |